Update 1 (March): This problem has been resolved. Thanks Telus!
Update 2 (April): Attached carrier file is now 5.2 (inc VVM settings).
I finally got an iPhone and I'm loving it so far. Everything is working swell, except for MMS (picture messaging) with other Telus clients. Its a quirky situation:
I can't send MMS to other Telus clients
I can receive MMS from other Telus clients
I can send an receive from non-Telus clients (Rogers, Fido, Bell)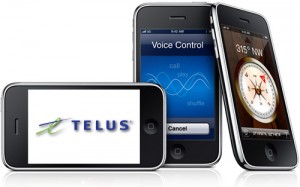 I don't know what's going on at Telus. They have been very friendly and understanding on the phone, but the data department seems a little brain dead on the issue. Its a "known issue", but it hasn't been resolved. They also closed all the tickets related to the problem without a fix. The rep I spoke with today said I should "check from time to time". That's not really an acceptable solution, but I have received a credit for %50 off last month and the promise of another if the issue isn't resolved.
So no progress yet, and my only suggestion would be to email pictures instead at this point. Are you having the same problem?
Also I've attached the latest Telus Carrier Update file (5.1) for others who are on the troubleshooting journey….
Telus_ca.ipcc (5.0 KiB, 2,259 hits)