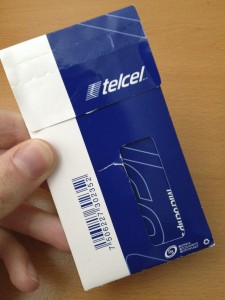 On a recent trip to Puerto Vallarta, me and fellow travellers wanted to stay connected without paying huge money for roaming or shoddy hotel wifi. So I looked into getting a Mexican SIM card for my iPhone. Its not quite as easy as prepaid in the US or Europe, but the good news is that if you want to get online while visiting Mexico it is relatively simple and inexpensive.
Actual calling tariffs in Mexico are very confusing. They're based on regions and, depending on where you call within Mexico, your calls could be very cheap or very expensive (like long distance in Canada). You're also charged extra if you travel outside of your very small home region. So I decided to skip native calling and texting altogether, and opt for data-only instead. VOIP, email and app based texting.
There are a number of cellphone companies in Mexico. Telcel, Movistar, Isuacell, Nextel among others, but Telcel and Movistar have the most widespread 3G networks that are compatible with iPhones and other unlocked GSM devices. And between those Telcel is said to have to greater coverage at somewhat higher cost.