On a recent trip to Puerto Vallarta, me and fellow travellers wanted to stay connected without paying huge money for roaming or shoddy hotel wifi. So I looked into getting a Mexican SIM card for my iPhone. Its not quite as easy as prepaid in the US or Europe, but the good news is that if you want to get online while visiting Mexico it is relatively simple and inexpensive.
Actual calling tariffs in Mexico are very confusing. They're based on regions and, depending on where you call within Mexico, your calls could be very cheap or very expensive (like long distance in Canada). You're also charged extra if you travel outside of your very small home region. So I decided to skip native calling and texting altogether, and opt for data-only instead. VOIP, email and app based texting.
There are a number of cellphone companies in Mexico. Telcel, Movistar, Isuacell, Nextelamong others, but Telcel and Movistar have the most widespread 3G networks that are compatible with iPhones and other unlocked GSM devices. And between those Telcel is said to have to greater coverage at somewhat higher cost.
I was ready to try out either Telcel or Movistar, but it turned out that we drove past a Telcel shop first. It was right on the big highway in Bucerias (Nuevo Vallarta area). There are plenty of these little stores and you shouldn't have trouble finding one. We went inside and I explained what I wanted to do. There was a language barrier, but in my case a salesperson's friend was visiting and he spoke perfect English. You might want to write down or save a couple phrases in Google Translate before heading to the shop.
I've read online that some have had to go into a big city and have their passport scanned. But in my case they just had me write down the spelling of my name, the hotel I was staying at and we were good to go. Activation was done over the phone.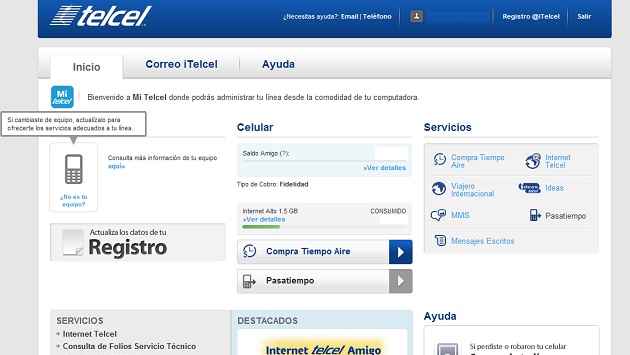 The SIM card was $149MX (just over $10CAD). There's plenty of data plans to choose from, but I went with the 1GB/7days for $199MX (about $15CAD). They activated it for me it was working right away. If you need to reload your account to buy more data or check your usage you can do it from the Telcel self-serve website. The site accepts international credit cards.
Coverage was OK. It worked just about everywhere, except inside the lobby of the hotel where there were some dead spots. It was mostly 3G but I saw Edge sometimes too. Speeds aren't amazing but better than the hotel wifi.
I used the Personal Hotspot feature on my phone, and we had up to 5 devices surfing and emailing harmonioulsy.