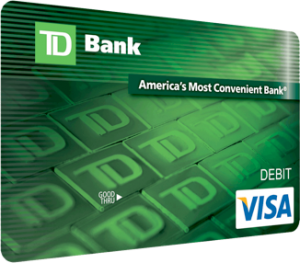 Earlier this year I opened a TD Convenience Checking account at TD Bank — the US equivalent to TD Canada Trust. This isn't like the US Dollar accounts you can open up at almost any Canadian bank: TD Bank N.A. is a full fledged American bank with over a thousand locations in the eastern United States. Its operated separately from its Canadian parent.
There are some helpful connections between the two, though, that make managing US money much easier (and faster) for Canadians. Funds can be instantly wired between your TD Bank US and TD Canada Trust accounts for free. The process requires calling in to the TD Cross Boarder Banking phone line, but its reasonably quick and painless. The representative reads an agreement, lets you know the exchange rate, and completes the transaction for you. You're accounts (US and / or Canadian) may be debited for a wire transfer fee, but in my experience it is refunded within about a day. 
I decided to open the account because I use a US based investment service. They mail checks to Canada, but between postal services and international holds it can often take over a month to receive the funds from a withdrawal. Using TD Bank I can have funds wired from the investment company, to my US account, and over to my Canadian account within a day. No holds necessary.
There are other advantages to the account too. TD Bank accepts Canadian addresses, and mails Canadian clients a Visa Debit card for their account. Its handy to have a US Visa for certain websites, and I've also been able to use it while travelling to take advantage of better exchange rates.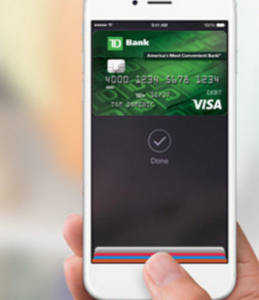 Another cool feature is the ability to add the debit card to ApplePay on my iPhone and Apple Watch since TD Bank supports the service. I had to temporarily change the region setting of my devices to United States, and then I was able to add the card. Any business that accepts contactless cards (AKA payWave, PayPass, Flash, NFC, "tap") should work with ApplePay in Canada. Tim's, McDonalds, Starbucks, Shoppers, T&T, and many other large and small businesses are already enabled. Perhaps event more here than in the US. Bear in mind any transaction made in Canadian Dollars, or any other currently than US Dollars, incurs a transaction fee of around 3%.
The account is also compatible with other services like PayPal. I easily added it to my existing PayPal account and use it to fund US dollar purchases monthly. You can use PayPal to transfer money between your Canadian and US bank account as well, but the exchange rate is usually less appealing than the wire transfer option. It also takes a few days rather than being nearly instant.
Some Issues
As long as you keep a balance of $100 the account I selected is free. You just need to remember not to withdraw everything, so that you can benefit from having a US account without paying the monthly fee.
After erasing my iPhone I expected adding my Visa Debit card back would be easy. Not so! I get an error message that "Your Issuer Does Not Yet Offer Support for This Card" even while it clearly worked before. TD Bank was unable to provide a clear answer when I called about the issue, but said that for some reason the card needed to be replaced. Seems silly to me. While travelling in the UK the card was suspended and I wonder if this has something to do with it.