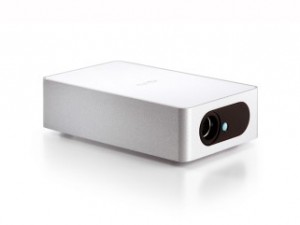 UPDATE: Elgato's Canadian EPG is now out of beta, and purchasers will receive one year of free access with purchase of an EyeTV tuner.
A couple months ago I ordered the Elgato EyeTV 250 Plus from the online Apple Store (free shipping FTW). Technically speaking its a TV tuner, but I bought it for its cassette digitizing abilities – more on that later. I thought that was the only use I'd get out of it too, since Elgato doesn't offer a Electronic Program Guide (EPG/listings) for Canada. Until now. The past few weeks they've been rolling out a beta version of the EyeTV 3 software that includes support for a Canadian EPG.
You might be wondering exactly what an EPG is and why its necessary for watching TV on your Mac. Basically its a file that EyeTV downloads to display the local listings for your area. The truth is that it isn't really required, but in a world where everyone has a cable box, built in schedules are a given convenience that I know I wouldn't like to live without. So it goes without saying I was thrilled to read about this beta version.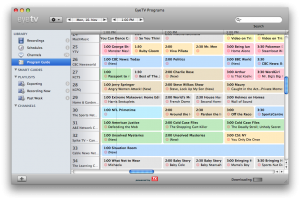 I signed up and got my beta invitation very soon afterwards. It was a breeze to download, install and configure EyeTV for use here in Vancouver, BC. It seems that some other parts of Canada aren't covered yet, but I'm sure that's coming in subsequent releases. It seems that Elgato has partnered with TV Guide Canada to makes this happen. Also worth noting, us Canadians only get a year of free service. Come next October I'll have to pony up $19.95 (USD no less) for a rewenal. That's not fair, eh.
Functionally its been almost flawless. There was this weird problem where programs starting at 4:00PM would have a duration of 0:00, but I believe that's been fixed. I'm with Shaw Cable and all the analogue channels come through fine. I also have the digital cable package and box, but my EyeTV doesn't pick those channels up for some reason. It does see the digital music channels though, so I don't know what's going on there. The quality is fair, but you'd never mistake it for HD. I've included a few screenshots that you can click to enlarge. Audio comes through very nicely with steady treble and tight bass.
There's something nice about being able to pause live TV, or replay something you missed. Start watching or recording with one click. Schedule recordings up to two weeks ahead of time, then have them converted and placed in iTunes for you. There's lots of cool stuff, its the best TV experience I've had thus far. I honestly prefer downloading HD shows/movies from iTunes or similar outlets, but that can take time and you rarely see obscure programming you may want to watch. I and friends have made a number of TV appearances lately. All I had to do to record them was set the time, and when I got home they were ready to post on YouTube.
All of that, and I only bought this little device to convert my VHS and 8mm tapes to DVDs. By the way, it does that very well too. Its as simple as plugging in your device (VCR, camcorder, LaserDisc) with composite or SVideo and hitting record. Then you can export to iTunes (for your iPod, iPhone or AppleTV), Toast (CD DVD or Blue Ray) or via a number of other options.
The EyeTV 250 Plus is a nifty little creature that can finally call Canada home. Its ease of use and capabilities make it worth every cent, and I wouldn't hesitate to recommend it to other Mac users in Canada.