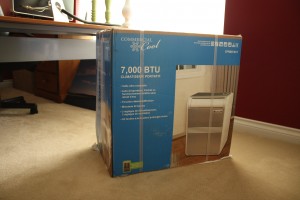 Thanks to global warming, summers probably aren't going to get any more bearable. Here in Vancouver home air conditioners aren't all that popular, but I'd wager that's about to change as heat waves start happening more often and lasting longer. That's why I decided to order up a portable air conditioner for my home office.
My criteria was pretty simple: its gotta be cold, its gotta be cheap, and it had better not break one week in. So after considering about half a dozen different models, I settled on the Haier Commercial Cool 7000 BTU Portable Air Conditioner (CPRB07XC7).

What is a portable air conditioner?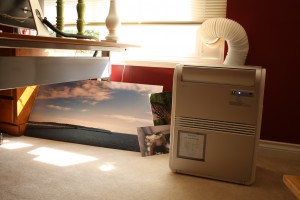 A portable A/C is a like a window mounted air conditioner (the kind you see in hotel rooms) shoved into a box about the size of a bar fridge. They can travel between rooms, and require only minimal amounts of installation. All you have to is secure an exhaust hose in a window and plug it in. They're meant to cool one room at a time.
Why the Haier?
I decided to get the Commercial Cool unit after a few hours of research. It best fit in the criteria I outnelined above.
Its cold: 7000BTU is more than enough for my 150 sq/ft office space. Its kept the room cool while outside temperatures hovered around 80F (and can probably handle higher).
Its cheap: about $300CAD when all was said and done
It hasn't broken [yet]: I can't comment on the longevity of a product I've only used for a week or so, but I'm confident it will keep on chillin' well into the future. This model is supposedly the least returned among low tier portable A/C's (according to two stores).
Its also not hideous. As far as cheap appliances go, this thing is actually pretty decent looking as long as you ignore the exhaust hose.
Any concerns or complains?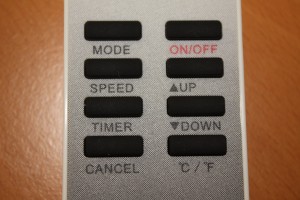 The CPRB07XC7 doesn't have any controls on it except an on/off button. You have to use a remote to specify the mode (cool, dehumidifier, fan), adjust the temperature, change the speed or set the timer. This is a concern, because if you break or lose your remote you'd be out luck. You would be, except that Haier sends along an extra remote just in case.
I think that's a nice touch, but not a replacement for on-unit control. I hope they appear in a future version. Its also a little noisy, but not any worse than three fans its replacing.
Suggestions
Any single room air conditioner is most efficient when in a more or less sealed environment. If possible use tape to cover any seems between the exhaust assembly and the window, and close the door of the room you're cooling.
I found that on this unit, the fastest cooling was actually on the medium setting. Perhaps this allows air to cool better, or reduces heat from the fan's electric motor.
Overall I'd say this Haier Portable Air Conditioner was worth the purchase, and I know I won't regret it next summer when portable A/C's are sold out everywhere. If you have any questions about it please feel free to ask.